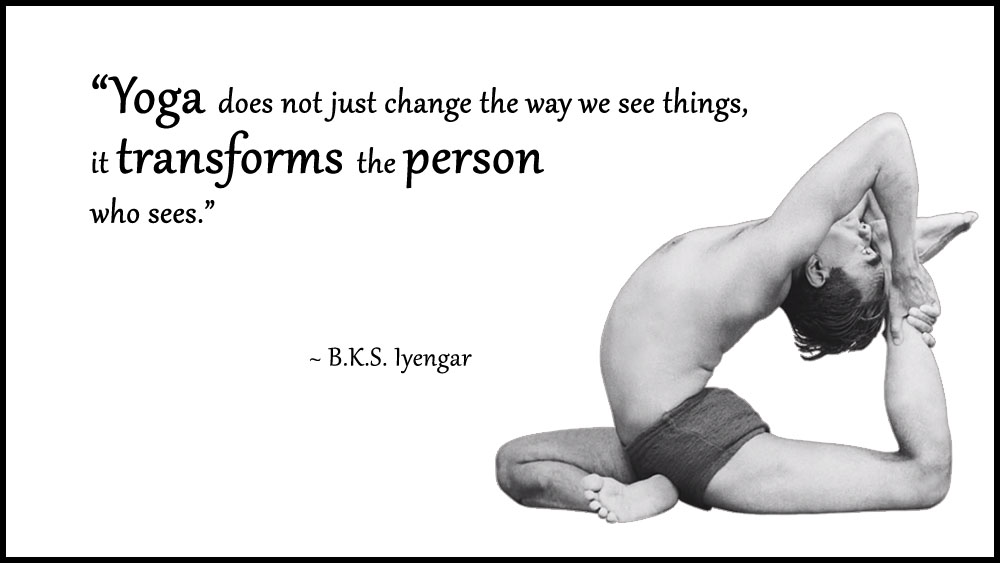 Bellur Krishnamachar Sundararaja Iyengar (14 December 1918 – 20 August 2014), better known as B.K.S. Iyengar, was the founder of the style of yoga known as "Iyengar Yoga" and was considered one of the foremost yoga teachers in the world.
"Yoga means union. The union of the individual soul with the Universal Spirit is yoga. But this is too abstract a notion to be easily understood, so for our level of understanding I say that yoga is the union of body with the mind and of mind with the soul". – BKS Iyengar, Tree of Yoga.
Iyengar Yoga is a form of Hatha Yoga and is firmly based on the traditional 8 limbs of Yoga. It puts emphasis on detail, precision, planned sequences, alignment and breath control. With over 200 yoga poses and 14 different types of pranayama, students can progress gradually by moving from simple poses to more complex ones through a step-by-step approach. The development of strength, mobility and stability is gained through the asanas. With many asanas, students are offered the use of props such as belts, blocks and blankets. The props enable students to perform the asanas correctly, minimising the risk of injury or strain, and making the postures accessible to both young and old.
Through the practice of a planned sequence of asanas, it aims to unite the body, mind and spirit for health and well-being. The discipline is considered by its practitioners to be a powerful tool to relieve the stresses of modern-day life, in turn helping to promote total physical and spiritual well-being.