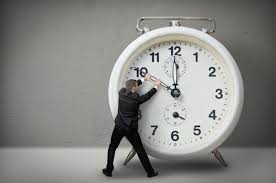 Time is on top of the mind of many researchers and in fact, New Scientist (2017, Vol 234, Issue 3128) includes a fascinating article about 'All the time in the world' in which Anil Ananthaswamy reviews neuroscientist Dean Buonomano's book ' Your Brain is a Time Machine'.
Perhaps the book is a good read because in it, Buonomano writes about the nature of time, the neuroscience of time, and that the brain is continuously making real-time predictions. In his book, Buonomano suggests that for the brain to be able to make these predictions, it needs complicated machinery in order to keep time – the predictions can happen in seconds, minutes or years. Anil Ananthaswamy's review suggests that our memory and cognition have enabled our brains to become time machines travelling back and forth in time. Imagine that? It's almost like being Doctor Who – except we need a Tardis.
So what if you could take time to focus on how you can really use time so that your life had the time it must have so that time just does not drag on without you actually achieving your dreams? Actually, you can do a lot to make time work for you rather than you work for time. How? Here is one way.
Be a 'Time Director and Producer"
What does this mean specifically. Picture your most desired goal. You have dedicated a whole day ahead for your goal.  You know you have because it's in your diary 'Goal Day'. You know that by the end of 'goal day', you want to feel accomplished, say to yourself 'Great Work', and see that success is approaching. How do you use that one day to direct and produce your goal? Do you know how? Are you going to remain committed to the time you have generously allocated in your diary or push into the next day? Did you know that when you stay focused, use your body time well, stay in the learning state, as well as use planning tools, you can get a lot more out of one day?
Take action, be focused, direct and produce your goal and achieve all that you want in life. Want to know more and fulfill your life? Talk to us now and we can help you to be the best 'Time Director and Producer' of your own life with our specialised coaching programs.
It's time, isn't it?

Glen Palmer
Master NLP Coach
You can find more information about Glen and the great work he does via his website, Minds Tomorrow. Glen works from the Wellwood Health Suites in Loganholme across a variety of days a times to suit everyones schedule.