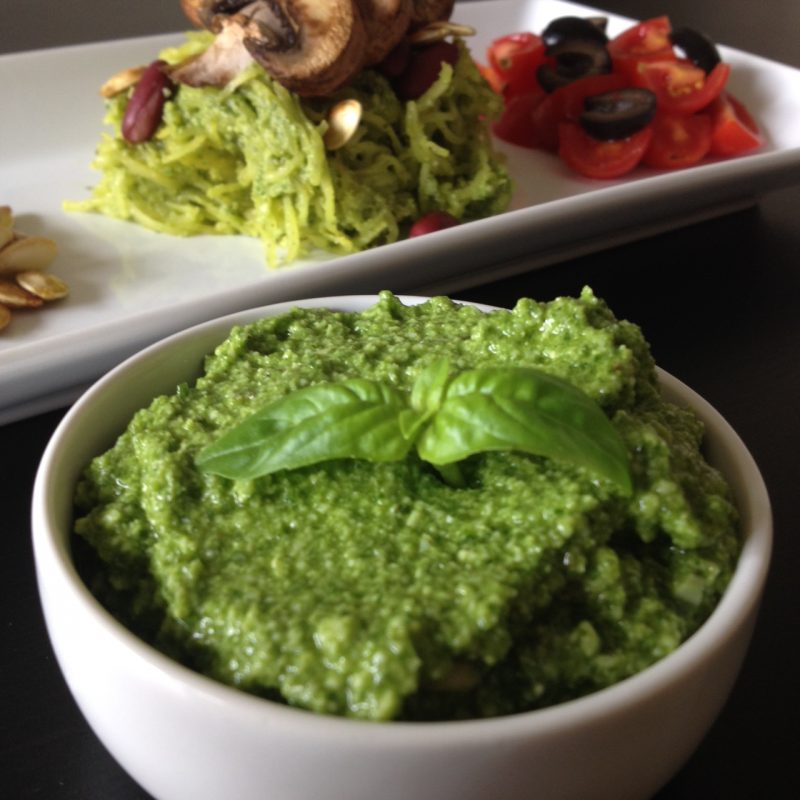 If you're looking to add more nutrition and flavor to your life, pesto is an incredible options.  It makes a great sauce, marinade and even dressing.  Pesto is hands down one of the best ways to add a mega pop of nutrition to any recipe.  Greens pack a motherload of amazing nutrients and blending them with healthy oil, nuts and herbs only condenses the nutritional offerings and flavor!
Yields: 2 Cups
Servings: 8
Ingredients:
2     Cups     Fresh Spinach
2     Cups     Fresh Basil
½   Cup       Pine Nuts
½                  Avocado
60   mL       Healthy Oil of Choice – I used 30 mL Grapeseed Oil & 30 mL Olive Oil
30   mL       Apple Cider Vinegar – Raw, Organic, Unfiltered, with the Mother
2     Cloves   Garlic, Minced
30   mL       Water
1      Tsp.        Black Pepper
Directions: 
Combine all ingredients in blender and puree until desired consistency.  Keeps well in the refrigerator for up to 4 days.
This recipe was originally published on NutritionSheila.com.